Not a lot about studying violin frustrates me. I could think of only three things. Mostly, I can't do anything about them, except introspect, and keep plugging away.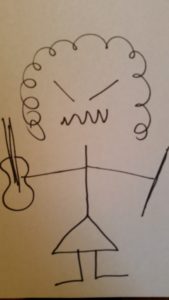 I get frustrated by life interfering with practice time. When a flat tire 200-miles from home wipes out Saturday's practice, solving the tire problem wipes out Sunday's practice, a car oil leak wipes out Monday's practice, a sick relative wipes Tuesday's practice, a last-minute trip to the doctor wipes Wednesday's practice, and all I am left with is Thursday and Friday to prepare for Friday's lesson, this is frustrating. I think of the child whose path is cleared for practice every day, and oh how I wish someone would do this for me. Oh well! It is the adult responsibilities of life that interfere with adult learners' progress.
I get frustrated by my own failure to trust the process of practice. I have a tendency to over-focus and work beyond the daily crest of improvement; to grind my way down the path of deterioration, deaf to consequences. I forget to stop on the upswing, allowing 10 repetitions to be enough. The body and mind need a night's rest to assimilate the day's work and create a launch pad for the next practice. It's a personality trait that violin demands I address.
Occasionally, I get frustrated by slow progress. I know of some who learn rapidly, and feel tinges of jealousy. Not that I can do anything about this. We are each blessed with unique characteristics that provide each with unique strengths and weaknesses. As much as I might wish otherwise, my neural-makeup is slow to change and grow, particularly regarding fingers that continually trip-up and sight-reading that continually stalls-out. I can only count my blessings that, with effort, and one synapse at a time, it does evolve, if I just keep plugging away.
Copyright 2017, All rights reserved.