Reading linguistic words and reading musical notes are two fundamentally different activities with two entirely different outcomes. Reading words results in mental ideas (Dony has animals!), which lead to further ideas (Is this on a farm?).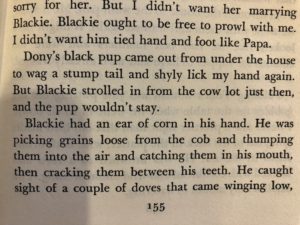 Reading notes results physical action (Right arm bow-stroke! Left hand fingering!), which leads to sound (Ringing "C"?).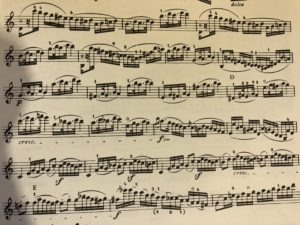 Pausing the eye at commas, periods, unknown vocabulary, is inherent to the process of reading words and forming ideas. Continuous forward eye-motion is inherent to reading notes, to render the on-going pulse of music. The neurological process of reading words can be fraught, think dyslexia, and so can the process of reading notes. Personally, while I have no issues reading words, I have come to notice a number of difficulties reading music. Here are some of them:
My eye does not physically scan continually forward across the staff at a continuous rate. It pauses at anything it doesn't quickly recognize, as it might in reading a sentence. Encountering an uncomfortable notational figure, my eye may try to loop back over it seeking familiarity. In a familiar piece, my eye might lag behind the notes being played. If my eye has paused, and muscle memory has carried the phrase forward, my eye will frantically scramble looking to catch up. Any of these erratic actions interfere with the essential forward momentum of the music.
Aside from eye-motion, as if failing to distinguish between the letters "C" and "G" (is that COT or GOT?), sometimes I can't identify a note in passing: they look too similar to me on the staff.  Associated with this issue is a visual illusion of the staff is shifting up or down behind the notes, so a D can change into an F, or vice-versa.
Reading problems interfere with making music, as they typically cause me to freeze mid-play, and the pulse stops, and the sound stops, and the music stops. Everyone who has ever worked with me has noticed the problem. "Just keep going. Don't stop." is the predominant instruction. This is like taking someone who has never seen snow to the top of a ski-hill and telling them "Just keep going. Don't stop." What they would end up doing would hardly be called skiing.
Reading problems also cause me intense anxiety. When I go to play a piece that I've studied well, I know reading mistakes will crop up randomly, interfering with the performance. I can't seem to practice my way out of them. It is like cooking in my too-familiar kitchen and today I can't remember where the salt and the bowls are, and tomorrow I can't remember where where the butter and the knifes are. So each time I start to cook I know I'll forget something, but I don't know what that something will be.
If there is a dyslexia of reading music notation, I have it.
In the world of reading-words instruction, there is an abundance of research and pedagogy to mitigate reading difficulties cause by neurological mis-processing. Does any such research and pedagogy exist for reading-notes? My guess is no. Typically, people who fail to progress at making music learn to quit trying, or drop out. I find this sad, and I refuse to capitulate. If there are best practices for alleviating note-reading difficulties, I hope to find them. In the meantime, I continue to practice and explore and see what I can figure out on my own.
Copyright 2018, All rights reserved.